Increasing Exports South of the Border
It's All in the Snacks
Snacks are of high interest to most people, and consumers in Mexico have peanut-centric snacks at the top of their shopping lists. Grocers, street vendors, and convenience stores are stocked with an impressive assortment of snacks for the peanut loving nation. Check out a few of the options available on the website, My Mexican Candy.
In 2021, 85% of the peanuts imported into Mexico were grown in the United States. The majority is allocated for production of candy bars and snacks, but surprisingly not utilized for peanut butter, a pantry staple in US households. American peanut growers would like to see US grown peanuts round out the remaining 15% by improving each Mexican family's familiarity with the creamy and crunchy favorites.
What about Peanut Butter?
Ninety four percent of American households consider peanut butter to be a virtual food group in its own right, while less than 10% of Mexican households even have a jar on hand. Many Americans grew up eating the classic PB&J but, in truth, we will add peanut butter to most anything, and are still identifying more ways to use it ( e.g., 20 Genius Ways to Use Peanut Butter). Today it is added to shakes, smoothies, ice cream, hummus, granola, salad dressing, pancakes, and the list goes on. One could say Americans are really into peanut butter, consuming an average of 3 pounds per person annually.

Food preferences and a taste palate are largely associated with culture, upbringing, exposure to new flavors and presentation. In Mexican culture, flavored whole nut snack combinations are most prevalent and over shadows the lonely peanut butter options on grocery store shelves. In contrast, America currently boasts more than 100 businesses that specialize in peanut butter production. In short, Mexico is missing out, and in light of this fact, American peanut producers must answer the call to action.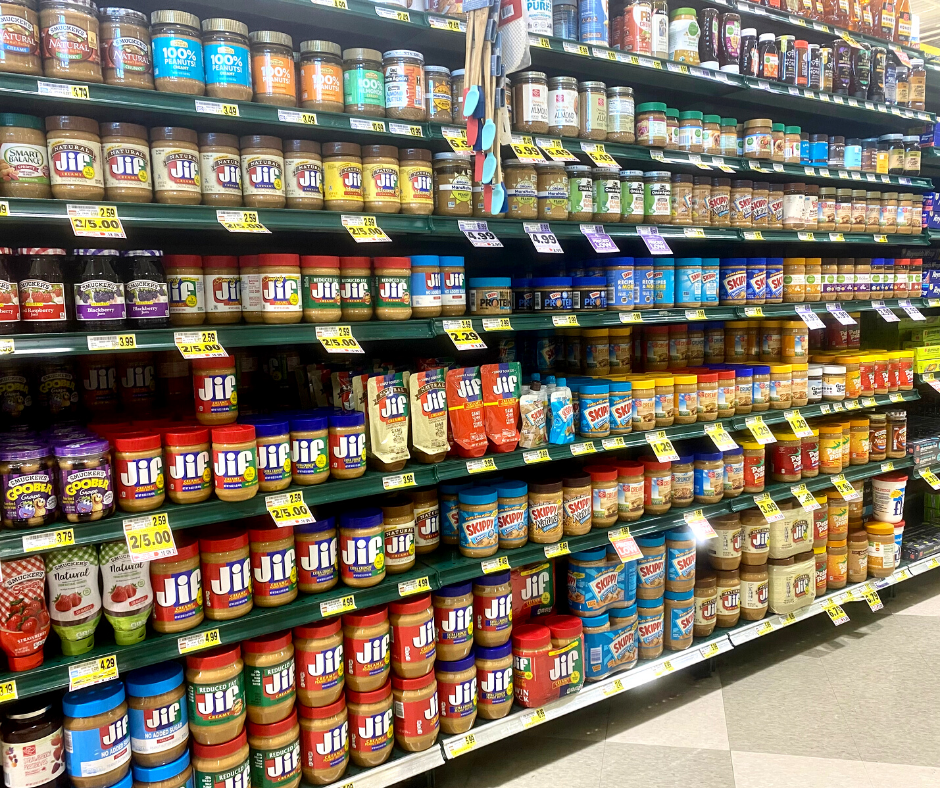 Peanut Butter Beyond Borders
The opportunity to increase peanut butter consumption abroad has been at the forefront of the American peanut industry's marketing efforts for more than 20 years. If we can increase Mexico's national interest and access to peanut butter, and its variety of tasty uses, we can expect demand for US grown peanuts to increase, especially high oleic #TexasPeanuts. 
At a recent meeting of the Texas Peanut Producers Board, members and staff discussed marketing efforts, which could elevate interest in peanut butter throughout Mexico.
Working to add peanut butter to the list of government approved food items of federally funded food assistance programs.

Educating dietitians on the nutritious qualities of peanut butter, in an effort to have peanut butter included in school lunch programs.

Partnering with national brands to distribute recipes having peanut butter as a primary ingredient, and facilitating the adoption of business plans to process peanut butter flavored food items including shakes, smoothies, ice cream, etc.

Increasing the familiarity of #TexasPeanut growers and shellers with major Mexican manufacturing executives through farm and production facilities tours.
A primary effort of the TPPB is market development and promotion in effort to ensure that our industry remains strong and competitive for generations to come. Here is to making peanut butter a Mexican classic! 🇲🇽🥜 Interested in hearing more about what the TPPB is up to? Click here to sign up for our newsletter.