Thanksgiving and Peanut Butter: A Match Made in Flavor Heaven
Posted on November 16, 2018
Thanksgiving is next week, which means it's officially every foodie's favorite time of the year! November also happens to be Peanut Butter Lovers Month, which we think is far from a coincidence. This year, we're celebrating by taking a look at some sweet and savory peanut-inspired spins on some Thanksgiving classics.

Let's get cookin'!
Dinnertime
From the turkey all the way to the pumpkin pie, we all know that Thanksgiving is a holiday that's all about tradition. While we believe that sticking to tradition is important, we wanted to explore some recipe options that offered something new. Who knows — maybe this will inspire some all new traditions!
Thai-Inspired Peanut Butter Green Bean Casserole
Let's jump right in and get started with an all-time classic. Over the years, green bean casserole has remained pretty much the same on tables all across the country, so it's about time we help you switch things up a bit! This take on the Thanksgiving staple introduces a whole new blend of Thai-inspired flavors that you may not have previously associated with holiday sides including coconut, tamari sauce, and, of course, peanut butter. You can find the full list of ingredients and instructions here.
Maple Peanut Butter Bacon Biscuits
As we're sure you'll agree, Thanksgiving is nothing without sides. The recipe for this particular side is an easy peasy twist on a bread go-to that's perfect for dipping, dunking, and soaking up all that leftover gravy! Also, who doesn't love an excuse to eat some more bacon?
Curried Peanut Butter Turkey Soup
Let's not forget about those leftovers! Instead of using them to make the same meal over and over again, put them to good use with a recipe that introduces a range of flavors that you may not have previously considered for Thanksgiving food items. Fire up the stove, open up the fridge, and switch things up a bit with this recipe, which can be found here!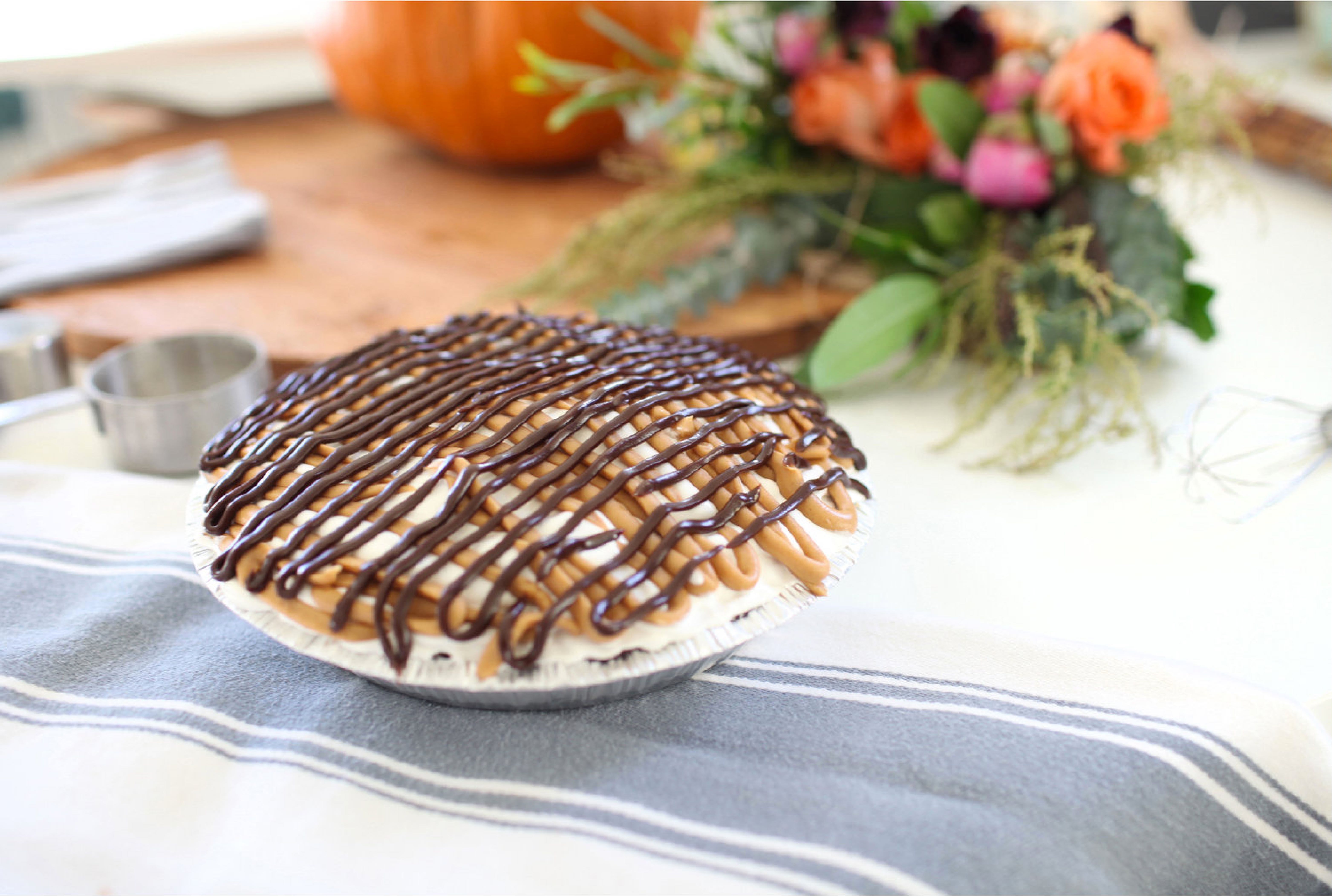 Did Somebody Say Dessert?
The main course is fun and all, but you can't have a great Thanksgiving without delicious desserts. Here are some great peanut butter-inspired ways to close out a long day of feasting!
Peanut Butter Pie
Let's kick off the best part of mealtime with a simple and straightforward sweet tooth's dream. This peanut butter pie takes simple ingredients and makes them into a dessert that is bound to have people asking for more.
Peanut Butter Pumpkin Cheesecake
With a peanut butter graham cracker crust and a pumpkin peanut butter filling, this is one of our favorite fall-inspired takes on an all-around dessert favorite. This one may take a while so to save time, prep this one the day before the big day and stick it in the fridge. Once you're ready to serve, top with whipped cream and salted peanuts to give an added kick of sweet and salty! Find the full recipe here.
Chocolate Pumpkin Spice Peanut Butter Pie
When it comes to dessert, sweeter is always better. This recipe takes your everyday pumpkin pie to a whole new level with a list of ingredients that will undoubtedly satisfy every sweet tooth in the house. The graham cracker crust, peanut butter and pumpkin filling, and chocolate topping all work together to create a fusion of flavor that is bound to make your Thanksgiving just a little bit sweeter. Say hello to your new dessert tradition!
Let the feast begin! Thanksgiving is less than a week out and we hope that these recipes help you with your prep and create a holiday to remember. For more tips and information on all-things peanut and peanut butter, visit us at texaspeanuts.com and subscribe to our blog!