Digging Deep – Developing Prolific Peanut Practices
Peanut pathologist, Dr. Cecilia Monclova-Santana, develops high-quality extension and research programs in Texas based on the growers' goal to produce a healthy and marketable crop. Her approach is to provide practical information for growers by conducting research to identify causes and management of plant diseases, and then communicating the findings through accessible educational programs.
Monclova-Santana earned her bachelor's degree in agronomy, and master's degree in plant pathology, from the University of Puerto Rico-Mayagüez. Her doctorate in plant pathology was awarded by North Dakota State University. Now part of the Texas A&M AgriLife Research & Extension Center in Lubbock, she serves as an assistant professor for both Texas A&M and Texas Tech University. Recently, one of her students presented research findings at an international conference in Puerto Rico. Riley Babcock, graduate student of Texas Tech presented her project, "In-vitro seed treatment fungicide effectiveness against Aspergillus niger and A. flavus." 
Pathology is the science of understanding the root cause and effect of disease, and Monclova-Santana specializes in maladies affecting Arachis hypogaea, the scientific name for the peanut producing plant. She stressed the fact that Texas is so vast, there are variations in growing climates resulting in regionalized diseases. As the peanut pathologist in the Lone Star state, Dr. Monclova-Santana recognizes the importance of extension and training to achieve grower buy-in and adoption of the best practices she prescribes. "I am humbled to learn from farmers' realities," said Monclova-Santana. "Extension is here to serve them."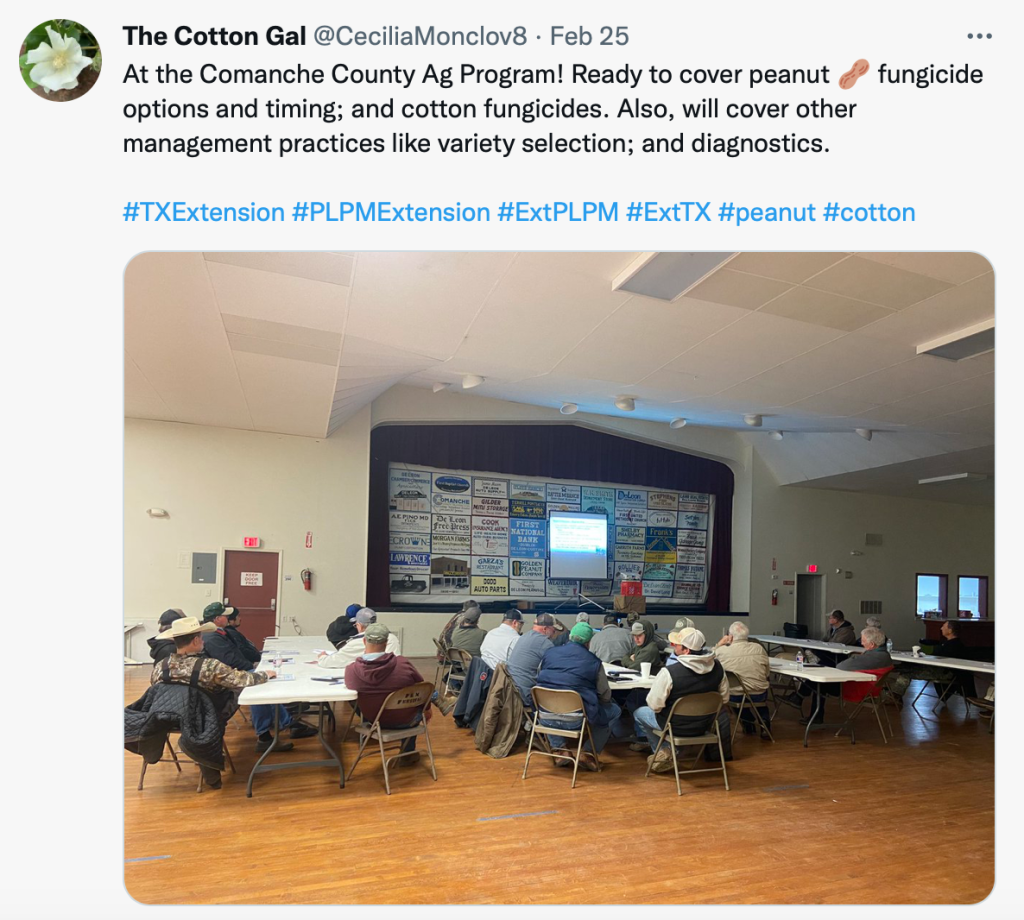 She explained that two years of research are required to adequately address the growers' primary concerns. Common topics include: water management, soil conservation, white mold, pod rot, and leaf spot. If you are a grower and need to voice a concern, she said reaching out to your AgriLife Extension County Office is the best place to start.
#TexasPeanuts in the Marketplace
"West Texas accounts for a significant percentage of the state's production," notes Dr. Monclova-Santana. Other peanut production states can apply as many as 10-12 pesticide applications in a season, while Texas growers apply twice, at most, in a farmer- supported effort to improve accountability, sustainability, and the board's pledge to reduce the carbon footprint. The characteristically dry conditions found in West Texas act to naturally control disease. Farmers can make the decision not to spray because they know the environment is deterring disease naturally.
A scholar and accomplished pathologist, the influence of social media on society in general is not lost on Monclova-Santana, and she has established a presence on twitter under the name The Cotton Gal, and handle @CeciliaMonclov8. She believes that social media is important for broad visibility and gives small communities and special interests a platform to express their perspectives.
The Texas Peanut Producers Board has been providing research funding and she expressed her gratitude. She is eager to see funding and support from more industry stakeholders, entities that trade on the quality and value of agricultural products. Dr. Monclova-Santana related an important point that without collaboration between scientists and industry partners, efforts may be duplicated and success can take twice as long. She said, "The future of research is collaborative, having industry companies, commodity groups and farmers at the table of discussion."